Industry
Financial Services
Title: Creative Director
Industry: Asset Management
Location: Newark, NJ
Seeking a highly experienced Creative Director with the ability to create an inspired vision for the Creative Services team. Must be strongly versed in the customer journey with the ability to articulate and execute a Creative Strategy roadmap, sell it to Leadership and business stakeholders, and build enthusiasm and confidence in the vision. This role requires a strong data and outcomes-driven approach and mindset.
Responsibilities:
Collaborate with business partners to develop Creative concepts that align to global business objectives, brand standards, and effectively reflect brand positioning in both U.S. and international markets.
Manage design and editorial execution across a full range of media including print, web, social, signage, advertising, etc.
Leads the integration of visual and copy to optimize audience engagement
This is a player/coach role that effectively leads a team of design and editorial professionals developing both digital and print concepts from conceptualization through execution.
Partner with internal agency; oversight and identification of external agencies.
Qualifications:
Minimum 5-7 years of Creative Director Experience; minimum of 7 years' managerial experience.
Must have an expert knowledge level of brand and visual identity with solid global financial industry experience.
Strong data visualization and customer UI design skills required.
Ability to translate complex, abstract information into compelling infographics.
Can demonstrate a data/outcomes-driven approach to Creative strategy. Strong understanding of relevant KPI metrics and the ability to help build strong measurement and feedback mechanisms.
Strong content strategy, content ecosystem and journey mapping experience.
Experience coaching and motivating reports through multiple ongoing projects, both in the U.S. and globally, while meeting deadlines and juggling priorities.
Track record of attracting and hiring high caliber editorial and design talent.
Experience working within a highly regulated industry.
Omni channel experience including print, content/video, web, mobile, app, email, out of home and social.
Must have proven experience delivering digital design ecosystems, visual narratives and campaigns across diverse formats, media and channels.
Proficient in Adobe Creative Suite (InDesign, Photoshop, Illustrator, Acrobat, Premiere Pro, and After Effects)
Strong PowerPoint Expertise -- layout and technical graph and chart building
Video editing, ideation, storyboarding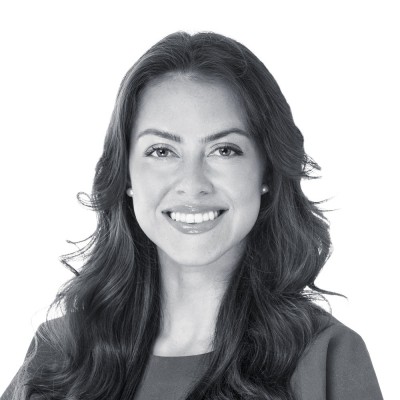 Contact Person
Pebbles Obando
Principal Consultant
Fill the form below to apply for this role: