Job Title: Digital Graphic Designer
Location: Chicago (in office 3x a week)
Industry: Real estate asset management firm
For our client, it's always about people first. It's a life-filled career, not just a career-filled life. It's doing good work, with good humans, and making a difference. It's excellence in all its forms.
Are you sick of soul-destroying corporate design job descriptions? Are you thinking, "I'm a creative person, and I cannot think of anything worse than being trapped in a big, stuffy machine, but I also want to do big, important, challenging work?" Well, have we got the job for you.
Design and visual storytelling is a key function of the Communications team, and its influence impacts every part of our business. You would be a collaborative member of our team, working on branding and design materials. Leveraging creativity and design best practices, this role will break down complex messages and transform them into a succinct, visual stories. This role will touch a wide range of projects, including presentations, social graphics, email templates, infographics, brande merchandise, and an occasional cardboard cut-out of our CEO.
Only read further if you are:
• Kind
• Humble
• Honest
• Relentless
• Smart with Heart
You should be:
• A passionate person with a love for real estate and investing; and believes that helping others win is a noble cause, essential to our success.
• An excellent team player who enjoys working with others and has strong interpersonal skills.
• Highly motivated, energetic, and organized
• Gumby. Things change.
Responsibilities:
• Develop concepts and designs for collateral materials, including digital (emails, social media, web) and some print (presentations, flyers, invites, wall art), from initial concept to final production.
• Maintain brand identity and visual strategy by ensuring consistency across all designs.
• Use human-centered design methods to bring compelling stories and complex concepts to life.
• Conceptualize and design corporate marketing collateral in support of the brand strategy.
• Understand user interface and experience design pertaining to internal web pages.
• Responsible for all photo editing and resizing for print and digital.
• Update and enhance corporate brand guidelines.
• Lead design for at least two all-company meeting a month, including presentation materials and accompanying graphics.
• Collaborate with internal stakeholders and articulate and advocate for design decisions.
• Responsible for in-house production requests and campaign iterations, including some highly sensitive projects with executive stakeholders.
• Manage and maintain graphic files and archives, including logos, photos, etc.
• Proof your work with attention to detail.
Qualifications:
• 5+ years of graphic design and visual communications experience with a proven track record of creative problem solving.
• Ability to conceptualize creative and original design ideas.
• Expertise in Microsoft PowerPoint, our primary tool for presentation delivery.
• Proficiency in Adobe Creative Suite; both print and digital applications.
• Creative data visualization/data storytelling experience required.
• Website and video editing experience are a huge plus.
• Must be able to multi-task and prioritize time to complete projects.
• Must be flexible and able to handle change in a fast-paced environment.
• An eye for data visualization.
• Strong written and verbal skills.
• Ability to manage multiple projects simultaneously.
• Self-motivated, self-directed and capable of working independently.
• High degree of integrity.
• It would be especially great if you are funny.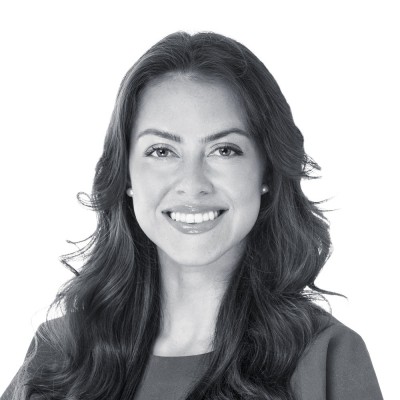 Contact Person
Pebbles Obando
Principal Consultant
Fill the form below to apply for this role: