This leading brand communications company is looking for a Head of Marketing to lead and drive their position in the industry as becoming an increasingly provocative, disruptive and modernising voice. This is a central role within the company's leadership team and will play a key role in the future growth and widening influence of the business.
The successful candidate must demonstrate an aptitude for thinking and planning strategically as well as being vital to overseeing the execution and delivery of a full marketing and PR calendar. The candidate must also be keen to roll up their sleeves and get involved in all areas of the business, helping them to fully understand agency and brand audiences, which in turn will lead to successful communications across all channels.
You will be ambitious and bring a huge amount of energy to the table, being a galvanising force for the company, providing clarity of purpose. You will be a natural leader and influencer and be able to demonstrate both qualities through your work to date. Ideally, you will already be operating at AD/SAD level within an agency environment and be looking to step up into a senior role with your next career move.
Key responsibilities will include
Developing a clear and focused marketing strategy for the organisation, and for new and existing products or services
Overseeing the implementation of the marketing strategy
Developing the marketing and PR calendar alongside the Marketing and PR Managers – including original content, paid media, events, social media and email. (And using these channels to increase inbound leads and enquiries)
Creating and managing the calendar of events including webinars, panel events and half day conferences
Managing and developing two direct reports
Taking the lead in developing a strong marketing model to measure and analyse all activity, leading to accurate KPI setting and tracking
Setting and administering an annual marketing budget
Overseeing the management of the CRM and marketing automation system
Safeguarding the company brand and ensuring coherence in messaging and tone of voice
Acting as the lead for company-wide GDPR responsibility, including leading meetings with senior team representatives
Working closely with the product team to ensure our product and services are meeting our audience's needs
Key skills / requirements:
5-6 years' experience within a brand, agency or entrepreneurially-minded environment. (Experience with subscriptions and online content is a bonus)
Clear and strategic thinker: proven experience of translating strategy into clear and actionable plans that fit with the rest of the strategy
Management skills: evidence of managing a small team
Analytical skills: Proven experience of demonstrating analytical skills within the world of market trends, competitor positioning and as the foundation for marketing strategies.
This role is expired.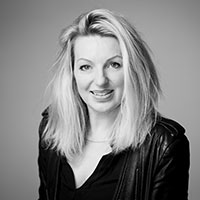 Contact Person
Penny Porter
Executive Director, UK & Europe