Industry
Enterprise Technology
An opportunity to join a leading B2B Technology practice within one of the first large communications agencies to structure itself around industry sectors. This adds deep industry knowledge to the agency's core communications business, which is supported by specialist areas of ideas and strategy, content creation and publishing.
This team is one of London's most celebrated B2B Technology teams and has grown rapidly over the last six years. The experience of the 35+ team spans integrated communications, from corporate, B2B and consumer communications, to digital + social, influencers, analyst relations, content marketing and internal communications. They understand technology ecosystems, consumer and business audiences and the power of the influencer. They believe in making complex technology simple.
The team is looking to recruit an Account Director to work with some of the leading global B2B technology brands. The role involves directing client teams, overseeing the creation of compelling content and developing relations with key clients. The role also offers the opportunity to explore new revenue streams for clients as well as driving new business for our practice.
The new hire will ensure content is on brand and consistent in terms of style, tone and quality. They will also have a flair for explaining technical issues with clarity in a non-technical way, plus intellectual and creative curiosity to drive results.
The successful candidate will be a master storyteller with a passion for technology and complement the team's values by being ambitious, creative, culture creators, kind and supportive.
This is a diverse and inclusive culture where everyone belongs. As a company and as co- workers, we are building a workplace where everyone can reach their full potential.
WE'RE LOOKING FOR SOMEONE WHO
Is fluent in B2B technology and has a passion for technology in general and its future within society

Is a great storyteller, with the ability to come up with compelling content ideas for our clients

Enjoys providing strategic counsel and building relations with senior clients

Directs dynamic and motivated client teams and provides guidance to optimise client satisfaction

Works with the clients teams to develop their consulting skills and careers

Is bold and brave, curios and creative, and brings the outside in

Has a passion for spotting new business opportunities and is keen to drive initiatives to help us grow

Is hands-on while having the bigger picture in mind

WHAT THE ROLE CAN OFFER YOU
The opportunity to work on some of the most exciting and dynamic global technology brands

The opportunity to hone your skills across strategic consultancy, brand campaigns, crisis management, analyst

relations, media relations, product launches, content generation, advocacy and influencer engagement programmes
Joining one of the world's most respected, award-winning PR agencies

Be part of a close-knit, highly motivated team, where culture matters, creativity is encouraged, and engagement

and cooperation are common values

Our dedicated training academy provides a breadth of skills enabling our people to take ownership of their career development and become trusted advisors to their clients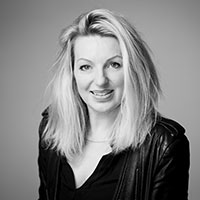 Contact Person
Penny Porter
Executive Director, UK & Europe
Fill the form below to apply for this role: